○●○○●○○ SKIN ADDICTION – BLACK FRIDAY WEEKEND ●○○●○○●
[ 29th November – 2nd December ]
Unless you live under a rock you know what weekend it is! This year
Birth taking part in the 10th Anniversary of Skin Addictions' Black Friday
Weekend.
As well as huge discounts ranging from 25, 30%, 40%, 50% OFF! on all your favourite skins and more, we have items marked practially free at 10L, one for the women another for men –
Just 10L –
Pretty floral face makeup for Catwa for the ladies and bushy smouldering eyebrows for the guys.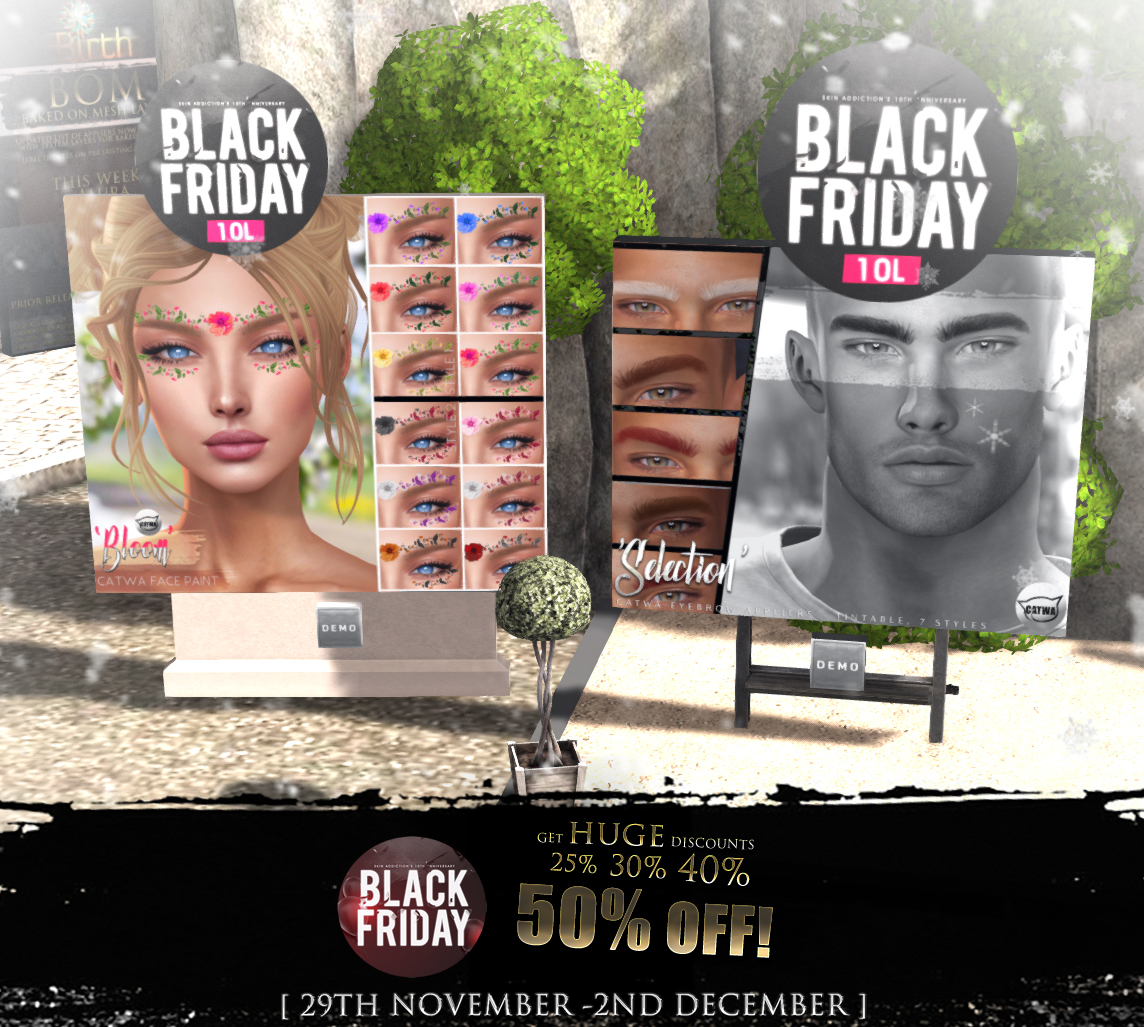 "Welcome to Skin Addiction's 10th Annual Black Friday Weekend, where participating designers have marked down select skins just for you! With a minimum 25% discount, you are bound to find your new favorite skin(s) for a great price!
[ To get discounts REMEMBER – You must first be a member of 'Skin Addiction', there are signs to touch to join around Birth store. ]
Tp down to Birth here –
http://maps.secondlife.com/secondlife/DLicious/91/241/21
—————————————————————————————
@ Kinky
http://maps.secondlife.com/secondlife/Liberty City/52/122/3720
'Booty-Matic' Bum Positioning Hud

Get the perfect booty – everything from minor adjustments to flat and extreme.
Move your bum in 100 ways up and down, foreward and back.
Rotate it in 10 angles for perfect perkiness/ droop and bootlicious thickness.
Make subtle adjustments to match your pose, or tweak
for that specific outfit and truly show off your ASSets to bewitch any onlookers.