Happy Monday, Skinnies! The best thing to happen to you today is happening right now. Another weekly roundup for your skin viewing pleasure (no, that doesn't sound creepy at all). There aren't a lot of releases this week. I suspect this is because Skin Fair is coming up on the 10th and everyone is saving up their best releases for that showcase. So, keep shopping for your new look!
---
New Releases:
Mignonne – released Zohair (for Catwa) at Rally to Rescue where profits go to help save pit bulls.
Lumae – released Yulia (for Lelutka) at The Avenue.
E. Vary – released Sora (for Genesis Lab) at Avangarde.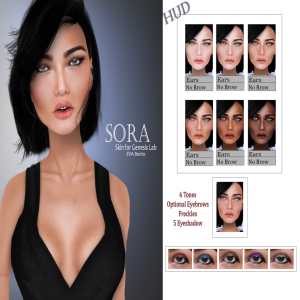 7 Deadly s[K]ins – released Delaney (for Omega) at Ultra.
Birth – released Lulu (for Lelutka) at The Chapter Four.
Adam n Eve – released Simone, Taliya, Rebecca, and Chari (for Lelutka and Omega) at their main store location.
---
Sales, Offers, and Group Gifts:
7 Deadly s[K]ins – is auctioning off free skins for a year at the Skin Fair auction.
---
That's the skinny, Skinnies! I hope you enjoyed this week's weekly roundup. Don't be afraid to try a new look and see yourself in a new way.
(multi)Muse
P.S. Don't forget to join the in-world group for updates right in your viewer and chat with ALL the awesome people. Just copy and paste the following into your local chat:
secondlife:///app/group/254db099-7966-1350-5766-c977fb2da5b3/about